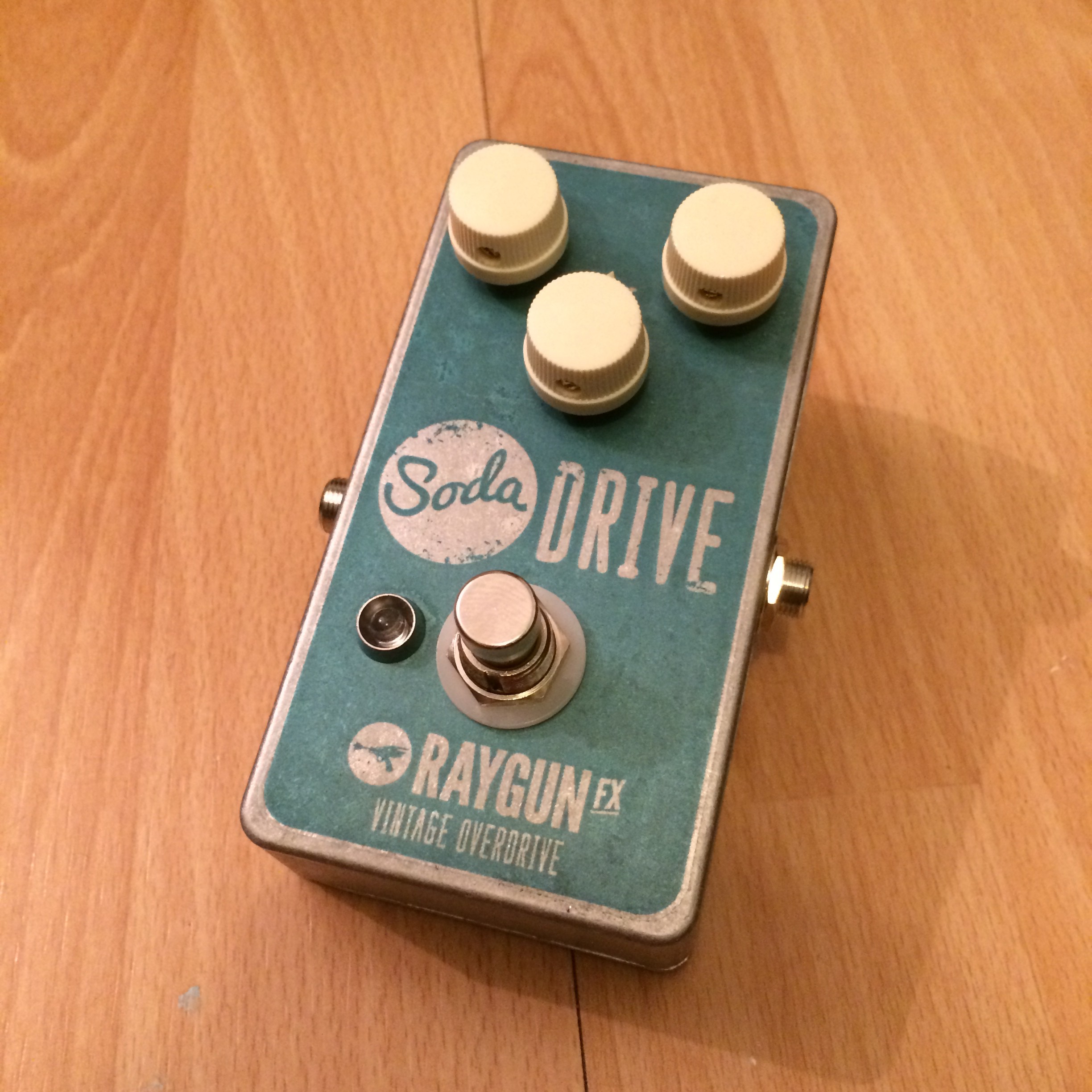 Thanks to Pedal of the Day for featuring the Soda Drive!
Read the full review here:
http://www.pedal-of-the-day.com/2014/10/28/raygun-fx-soda-drive-overdrive-distortion
The newest offering from RayGun FX across the pond in England is the Soda Drive, a small, stylish pedal that can give you a little bit of the Blues or a whole lot of the Rock, and is my first foray into this super-friendly company from the UK. I've got a couple of their pedals I'm going to review in the near future, but let's start it off with this great little Baby Blue drive pedal, shall we?
The controls are nothing new: Volume, Tone and Drive, just about par for any basic overdrive pedal. This difference here is in the sound. There's nothing in this pedal I would call a "Clean" boost, by any stretch of the words, which I think is just fantastic (let the Boost pedals do the clean boosting, right?). Even at low Drive settings, there's a rough, slightly overdriven tube amp sound happening, adding a great little bit of bluesy crunch to your tone. Around noon, the drive starts to become more and more prevalent the more you crank it up. By the time it's maxed out, your amp is so thick and full of sonic gooeyness you don't know what's going on, only that you sound better than you ever have before. The Soda Drive produces really warm, old-school tube amp sounds, exactly what you need to jumpstart your playing and bring your overall tone to the perfect peak.
Small, sleek, great design and great sounds, the Soda Drive is an awesome pedal for any collection or pedalboard. Thanks again to Steve and RayGun FX for allowing me to check out a couple of their pedals – stay tuned for more reviews of theirs in the near future, and see what else they have to offer on their website as well!
Specs:
Volume, Tone and Distortion controls
9v DC Powered
True Bypass
Works with Guitar or Bass
Hand Make Guitar Fx Pedal
Vintage control dials
Rubber grip feet
Submitted by Mike B, Website