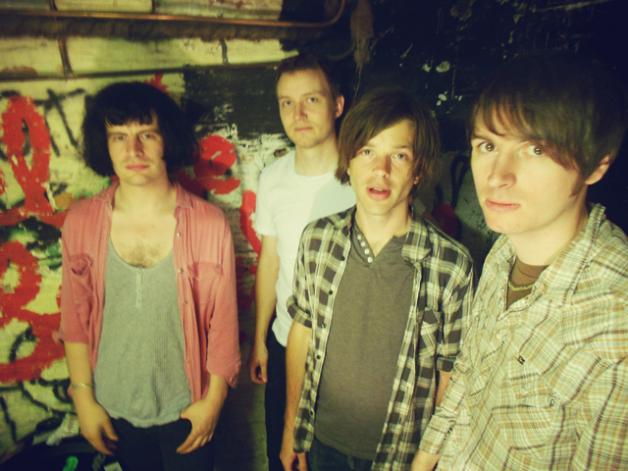 As well as use our Super Fuzz Bender MKii, Nine Black Alps had 4 Custom MKii's made up to promote their album 'Candy for the Clowns'.
---
Sam Forrest (vocals, guitar)
David Jones (guitar)
James Galley (drums, vocals)
Karl Astbury (bass)
WEBSITE: www.nineblackalps.com
BOOKING CONTACT: lee@selectbookingagency.co.uk
PR CONTACT: hello@ilikepress.co.uk
The band were formed in 2003 in Manchester, UK and were quickly signed by Island Records after just a handful of local shows and an almighty scramble amongst the music industry.
After a debut single 'Cosmopolitan', Nine Black Alps spent 2004 touring the UK before travelling to Los Angeles to record their debut album 'Everything Is' with Rob Schnapf. The success of the album led them to play several large tours in the UK, US, Europe and Japan.
After spending the majority of 2006 touring America, the band recorded their second album 'Love/Hate' with Dave Sardy before touring with the likes of Black Rebel Motorcycle Club and Biffy Clyro.
In 2009, Nine Black Alps regrouped to record their third album 'Locked Out From The Inside' with Dave Eringa which saw them producing their heaviest work to date.
Following a UK headline tour in October 2009, the band took time out to pursue other projects with Sam Forrest releasing a string of solo albums, David Jones playing live session guitar for The Cribs and Martin Cohen leaving to form his own band Milkmaid.
Nine Black Alps regrouped in Spring 2011 to record their fourth album 'Sirens'. The album was entirely self-produced and mixed by the band in Yorkshire and offers the clearest vision of Nine Black Alps yet.
'Sirens' is the sound of a band that has grown and matured but still contains all the hallmarks of a classicNine Black Alps record which saw the likes of the NME hail their music as, 'a fantasy fairyland of college rock and surf-pop' while Kerrang nominated them for the 'Best New band award' in 2005.
www.nineblackalps.com
www.twitter.com/nineblackalps
www.nineblackalps.bandcamp.com
www.facebook.com/pages/Nine-Black-Alps/25573229850?ref=ts
www.nineblackalps.bandcamp.com
Trying out the hyper tasty super fuzz bender courtesy of @RaygunFX advanced sludge factor… pic.twitter.com/wbPaRm3fu5

— Nine Black Alps (@NineBlackAlps) September 12, 2013